Physical Therapy Services in Sedona, Arizona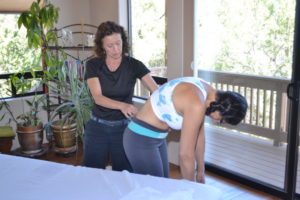 Physical Therapy is a scope of practice primarily concerned with the remediation of impairments and disabilities while promoting mobility, functional  ability, quality of life and movement potential through the use of examination, diagnosis, physical intervention techniques and passive modality agents carried out by physical therapists.
WHY CHOOSE VERDE VALLEY MYOFASCIAL RELEASE AND JODY HENDRYX, PT FOR YOUR PHYSICAL THERAPY SERVICES?
Jody Hendryx, PT has a unique blend of highly effective hands on techniques to relieve pain, restore motion and enhance personal growth.  She believes that it's important to identify the underlying cause of the problem and assists her clients in understanding and correcting the contributing factors.
In addition, she has advanced training in specific anatomy and treatment related to the female and male pelvis. Her training includes both didactic and hands on lab technique courses aimed at in depth thorough evaluation and treatment of internal and external structures of the pelvic floor. Manual therapy techniques, primarily myofascial release, are the primary treatment tools utilized in her treatment approach. Her one on one approach allows her to easily identify postural and movement patterns which may be contributing to the problem being treated. Correction of these movement and postural patterns via specific strengthening, body mechanics and postural education is an important component to the treatment.
Jody Hendryx, PT currently co-teaches a women's health training for female health care providers wanting to increase their skill level in this area.
Specialized services also include:
*Pelvic Floor Physical Therapy:  Pelvic floor therapy has become very popular due to the chronic and life altering affects of pelvic floor dysfunction in women and men of all ages.   Proper understanding of how to access the muscles of the pelvic floor correctly can make a significant improvement in so many musculoskeletal diagnoses.  Jody Hendryx, PT has specific training of the pelvic floor muscles and how they relate and interact with the rest of the body.  The pelvic floor is never treated in isolation but integrated with function of the entire body.  Internal and external manual therapy treatment along with proper activation of the core muscles with exercise is the focus of care at Verde Valley MFR.     Click here for more information.
*Dry Needling:  Dry Needling is a  form of therapy in which fine needles are inserted into myofascial trigger points (painful knots in muscles), tendons, ligaments, or near nerves to stimulate a healing response in painful musculoskeletal conditions. It is not acupuncture, although the technique may look similar.   Click here to learn more about Dry Needling.
*Craniosacral therapy:  Craniosacral therapy is a very gentle technique which  also addresses the fascial system.  Craniosacral therapy is integrated into treatments depending on the condition being treated.  Click here to learn more about Craniosacral therapy.
*TMJ or temporomandibular joint disorders– Myofascial release is an effective treatment for TMJ.  Learn more about how we address TMJ here.
*Lymphatic Drainage: Helps stimulate the lymphatic system flushing out harmful toxins.  Learn more about how lymphatic drainage can be an effective treatment here.
*Pediatric Physical Therapy: Manual therapy is so important from birth throughout the growing years.   Some very common issues such as developmental delay, cranial and muscular imbalances, ADD, ADHD, chronic ear and sinus infections, colic and reflux can be alleviated with proper treatment.  For more information, click here.
To schedule your Physical Therapy appointment in Sedona, Arizona, call (512) 789-9467 today!